Scoreboards/Previews
MLB

NFL

College Football

NBA

College Basketball Scoreboard


Winning Points News


MLB Wagering Overview

Baseball betting tutorial

MLB Moneyline explanation

MLB Umpire Stats

MLB Wagering: Pythogorean Formula

Handicapping MLB Pitchers

Baseball Parlays

Baseball Revenge?

Baseball Underdogs

Baseball Beaten Favorites

Baseball Day/Night




The Winning Points EXECUTIVE CLUB is a phone service/email option with game-day releases ready in the early afternoon, rated by strength. Football, Basketball or Baseball, by itself: $100 for 7 days trial. $295 for 4 weeks. Discounts for combining more than one sport. 7-STAR AUBURN -2 over Kansas topped yet another profitable weekend of NCAA Tournament Executive Club action!
More Details...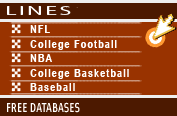 More Winning Points News
Alliance of American Football: The AAF kicks it off on Feb. 9, just six days after the Super Bowl!

Legal Sports Betting Legislation Update Link

New Jersey follows Delaware into the sports betting market

A take on sports betting's place in America

Explanation of teaser wagers

An attempt at explaining 'value' in sports wagering

Fan vs. Bettor