Scoreboards/Previews
MLB

NFL

College Football

NBA

College Basketball Scoreboard




The NFL playoffs have arrived. Winning Points weekly paper has all four games covered as well as the College Football Championship Game. Plenty of ***BEST BET and **PREFERRED action in College Hoops and NBA, too! MORE
Winning Points News


NFL PLAYOFFS: One take on Jacksonville at New England

Under-the-radar Patriots injuries

The Seattle similarity to Jacksonville defense

Warm up the punters for Vikings-Eagles?

How to loosen up the Vikings defense, by an Eagles rooter

Writer speaks for "history," says "history" disagrees with pointspread for Vikings-Eagles

Casinos prepare for Supreme Court ruling on sports betting




WINNING POINTS
EXECUTIVE CLUB PHONE SERVICE
1-877-808-0878
The Winning Points phone service with an email option. Normal prices: Football: $100 for 7 days trial. $295 for 4 weeks. Two-sport, or half- or full season membership earns a great discount!
More Details...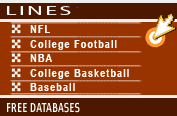 More Winning Points News
Headline says Congress takes "huge" step in legalizing sports betting in U.S., but in reality, it is a small first step

Former NBA commish advocates for sports betting

Fantasy sports companies drawing scrutiny from the law

A take on sports betting's place in America

Explanation of teaser wagers

An attempt at explaining 'value' in sports wagering

Fan vs. Bettor

Baseball betting tutorial

MLB Moneyline explanation

Handicapping MLB Pitchers

MLB Wagering: Pythogorean Formula

MLB Umpire Stats

Baseball Parlays

Baseball Revenge?

Baseball Underdogs

Baseball Beaten Favorites

Baseball Day/Night

MLB Umpires and Alleged Effect on Totals

MLB Wagering Overview